This site is about my 1970 ford galaxie 500, with it's 390 cu in big block, and it's sleek, yet agressive stance.
I love my car, and there are not enough web pages about it.
so i decided to make one.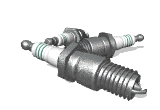 I found my car for sale, in a small town, on my way back home from a long weekend cottage party. An old man had owned it, and had kept it stored for as long as he had owned it. He bought it in tennessee, and towed it to his home with his R.V.
His story was that his wife needed space in the garage, and he would have to sell it.( he had a collection of old cars!)... so as he pulled it out of his garage, i just so happened to be driving by...extremely hungover.... and so it all began....
this is the original buildsheet
i found it under the front passenger seat